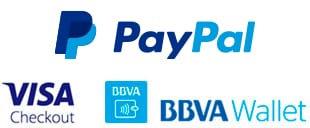 On the website
To pay, follow these steps:
Choose to pay with PayPal or Visa Checkout, and then click "Pay with PayPal" or "Pay with Visa Checkout."
You will be redirected to the official portal of the selected method.
Enter the details of your Paypal or Visa Checkout account, or create a new account and verify the purchase details.
At the end of your purchase, you will return to uniqueprinted.com, where we will provide you with information about your order.
Upon completion of the purchase, you will receive an email confirming the purchase invoice and shipping information.
NOTE: Your order will be shipped to your PayPal address. Ensure you have selected or entered the correct delivery address.
You can apply coupons to your order at checkout. Once you've entered your coupon code, click "apply" and the discount will automatically adjust your order total. Please note that if you do not click "apply" before continue checkout, your order total will not reflect coupon.
If the payment is not successful, please feel free to contact our customer service staff or E-mail us. Thank you